NICA and Tonus Tech join forces to ensure that smart textiles can help keep us active.
Developing meaningful innovations that can actively support people to stay fit for longer.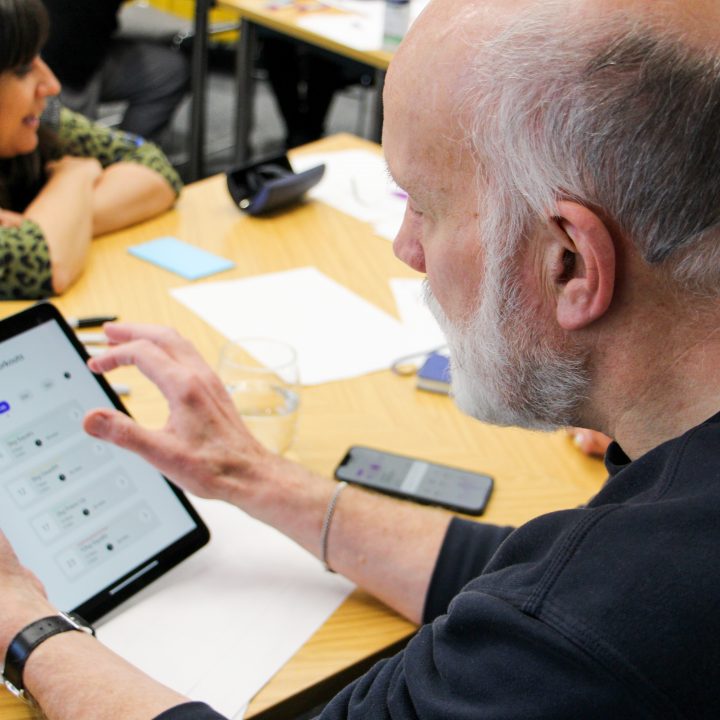 Mobility and activeness vital to healthy longevity.
We know well that mobility and activeness are vital to healthy longevity. Research shows that after we hit 50 years old our body loses 10% muscle mass and strength continues to decrease by 15% every decade, by the time most of us hit 70 years old we will have lost 30% of our body's strength and 51% of its power. The World Health Organization reported last year that between 2020 and 2030, US$27 billion will be spent annually due to physical inactivity leading to almost 500 million people developing health conditions such as heart disease, obesity, and diabetes.
Collaboration
Since 2021 the UK National Innovation Centre for Ageing (NICA) has been collaborating with TonusTech on their journey to develop meaningful innovations that can actively support people to stay fit for longer. We strongly believe in their approach of embedding technologies like sensors and actuators in fabrics to nudge people in their activities without any overarching infrastructure. We all know it is extremely complicated, but – as well – an extremely promising opportunity for our future, our well-being, and our desire to age with style.
Smart Leggings and an Exosuit
Along this journey, we have performed several interactions with the Tonus Tech team, the last of which was focussed on engaging older people to help improving a digital dashboard paired with Tonus Tech's smart leggings to enable users to detect and monitor muscle and joint movement. These insights and data will help to better define haptic feedback, generate counter support to muscles and joints under stress and eventually lead to the development of a full-body exosuit. As life expectancy increases globally, more people are experiencing ailments and health problems that Tonus Tech want to address.
The Benefits of Technology
This last collaboration is part of a joint project funded through Innovate UK's Smart Grant including Newcastle University and City University of London. The technology will have a range of benefits such as reducing the strain on joints, supporting, and encouraging people to improve the nature of exercise they do and prevent further injuries that may occur.
Our Rachel Tang, Innovation Consultant at the National Innovation Centre for Ageing, said:
"This collaboration with Tonus  Tech is the perfect example of why we do what we do, working with businesses with like-minded visions of creating a world to enable individuals to live healthier for longer. We are interested in the whole process Tonus  Tech is going through: from tech development to go-to-market. Understanding the whole value chain is critical since we know well that technology here is only part of the equation. Bringing it to people is as much challenging as the micro components in one inch of textile.
The products being developed won't just enable individuals to monitor their exercises and physical activity but – most importantly – will educate them on how best to maximise their ability whilst boosting their confidence and providing reassurance that they are doing so safely and correctly – through the workshop with our VOICE community we know that this is important to them. They value a product that can help keep them active and see this as something that can ultimately make a real difference."
Tonus Tech Co-founder, Marianna Recchia, said:
"This experience revealed a strong awareness of physical and mental benefits of sports activities in a life-course framework and a natural curiosity towards technology that can help people to take active care of their bodies. During the workshop, participants could observe the first results of the user trials in collaboration with the Sport & Exercise Science Department of the University of Newcastle and ask questions on the variety and validity of the measurements provided for different kind of sports disciplines (including: team sports, gym classes, yoga, dancing) and fitness levels.
The workshop gave Tonus' Team the opportunity of understanding better the positive relationship between active people and their trainers and the necessity to facilitate such relationship with the help of objective data on improvements and challenges. Participants have been really interested in discovering more about new "internet of sports" or "internet of care" products on the market."
Through working with NICA, the team were able to speak directly to potential end users learning valuable insights as to how the products could be developed further and used to meet their unmet needs.