| By Lynne Corner
Presenting our Community Award at the Work For Tomorrow awards
It was fantastic to be a part of yesterday's (22nd March) Work For Tomorrow awards with our partners and colleagues at the International Longevity Centre, and to present a NICA VOICE® 'Community Award' to Bravestarts.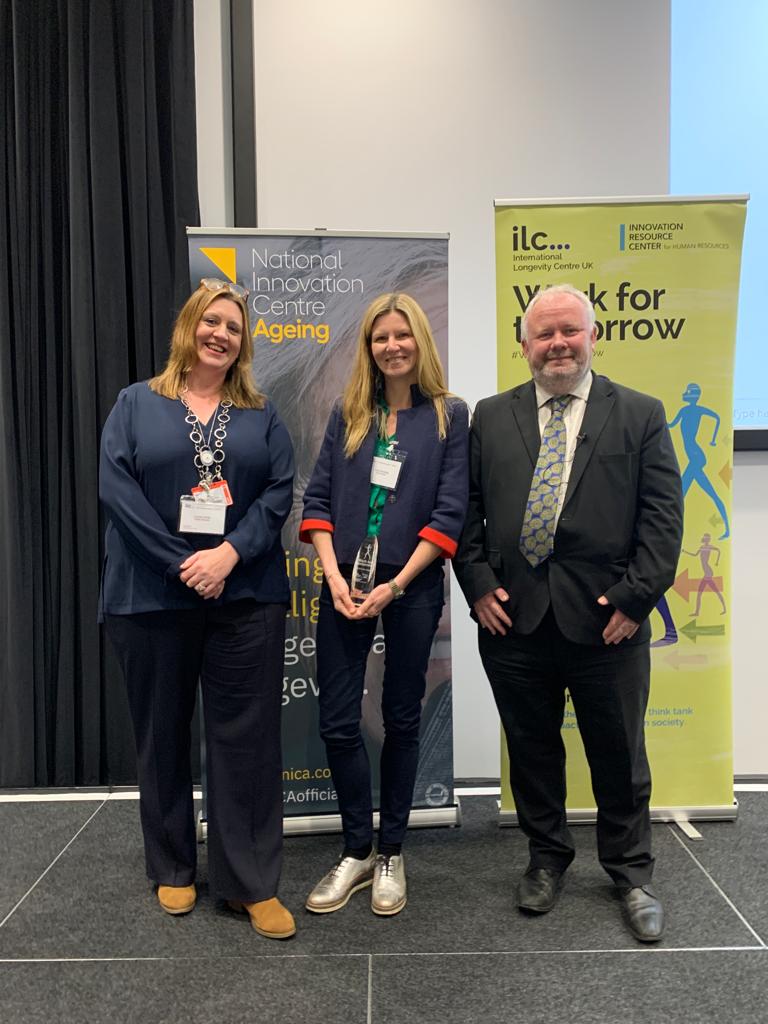 As we move to Longevity Societies, we know this will necessitate many changes in all aspects of life, but especially in education, skills, life-long learning – and this is so needed for changes in careers and jobs right across the life course.
We know people's needs and preferences change – and we also know that across all our communities there is massive untapped potential, as people have lifetimes of experience, knowledge and wisdom and want to channel that to change direction and try new careers, pursue new interests and passions.
VOICE® at NICA stands for Valuing our Mental Capital and Experience. It's an established national and international network of members of the public, a network of creative and imaginative people from all sectors, passionate about coming together to channel their individual and collective experience, knowledge, insights and wisdom to solve some of the world's biggest challenges and make a better place for everyone to enjoy healthier, longer, and more fulfilling lives.
We so enjoy working with our partners and colleagues at ILC on this fantastic programme Work for Tomorrow,  highlighting the amazing organisations and creative imaginative leaders for this agenda – and everyone at the National Innovation Centre for Ageing and VOICE® is looking forward to working with the organisations represented here and supporting on their exciting journey ahead.
Yesterday we presented the NICA VOICE® 'Community Award' to Bravestarts, a community-based platform that helps adults in the UK to try out and start new careers. Praised by the judges for its simplicity, Bravestarts offers a programme to help people who are unsure about starting a new career understand what they want and what they might need to get there. It provides a platform to link up with professionals already in that area, and build the right skills to make the leap.
It is so good to see a practical programme which helps people who might be unsure about a new career, or need help with where to start, get timely advice and support to get the right skills to make the change. Fantastic as always to work alongside our partners at ILC, and we're looking forward to seeing Bravestarts and all the finalists go from strength to strength. Congratulations!